Next Level Cloud-Based LinkedIn Automation
Create automated messaging sequences, connection requests, profile views, follow-ups, and skills endorsements, plus in-app messaging. Completely personalized, highly targeted campaigns without the cost of advertising. Unique targeting options. Handle all messaging needs without ever leaving the web app.
Runs entirely in the cloud, so you can unplug your computer if you want and it will continue to work
Works great for individuals, but designed for agencies and people running multiple accounts
Run as many LinkedIn profile accounts as you want
Ability to 

target those who liked or commented on a LinkedIn post

Also do all your manual messaging and conversations management without leaving Prospect Maximizer
Access your LinkedIn inbox from within Prospect Maximizer
No need to install software or browser extensions
No need to keep browser window open
"My Network" tab shows all data for all your connections in one place
Each LinkedIn account added is assigned its own dedicated IP address
Detailed analytics dashboard
Export all data to your favorite CRM, with automatic Google Sheet sync
Connect to external tools like Zapier and/or do custom reporting with automatic data push to Google Sheet

Automatically delete oldest pending invitations to keep count less than ~1400

Ability to endorse skills for 1st degree connections

Ability to clone sequences

Collect up to 27 data points on each prospect

Clean, intuitive interface. Easy to use
How It Works
Automate Your LinkedIn Lead Generation in 3 Easy Steps
1. Find Your Perfect Prospects
Build a list of your perfect prospects to target using LinkedIn Sales Navigator, 
a list of LinkedIn profiles, your current followers, or even target those who liked or commented on a LinkedIn post.
2. Create Outreach Campaigns
Create messaging and action sequences tailored to your targeted audience. You have control over the timing of the sequences and have the ability to create unlimited outreach campaigns.
3. Watch The Leads Come In
Prospect Maximizer automates the LinkedIn outreach efforts according to the actions and timeframes you have chosen. Check your inbox each day to find the new, targeted leads that have responded to your messages.
Easily Identify Potential New Customers
Quickly target new leads in Prospect Maximizer using one of the following sources:
1. LinkedIn Sales Navigator or LinkedIn search results
2. People who have liked or commented on a specific LinkedIn post
3. Followers of your account
4. An imported list of LinkedIn profile URLs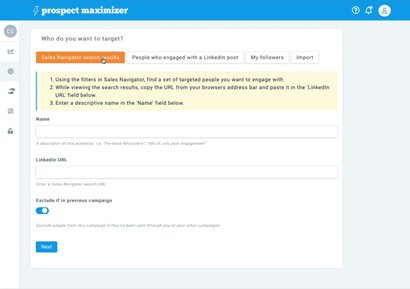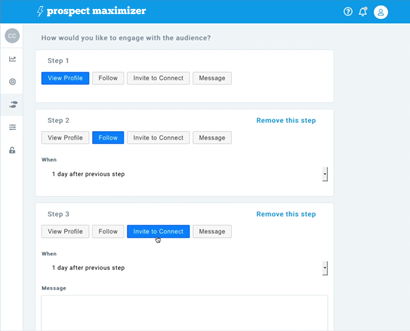 Create Personalized Campaign Sequences Tailored to Your Audience
Easily automate ongoing interactions with prospects. 
Here's what an example sequence might look like:
Day 1: View prospect's LinkedIn profile
Day 2: Follow prospect
Day 3: Invite prospect to connect
Day 4: Send prospect "thank you" message
Day 5: Send prospect direct message
View Detailed Analytics.
Get Priceless Insights.
Our dashboard provides the stats you need for all of your campaigns at a glance. Meanwhile, automatically sync all campaign data to Google Sheets to use for creating custom reports, importing to your favorite CRM, creating email drip campaigns, etc.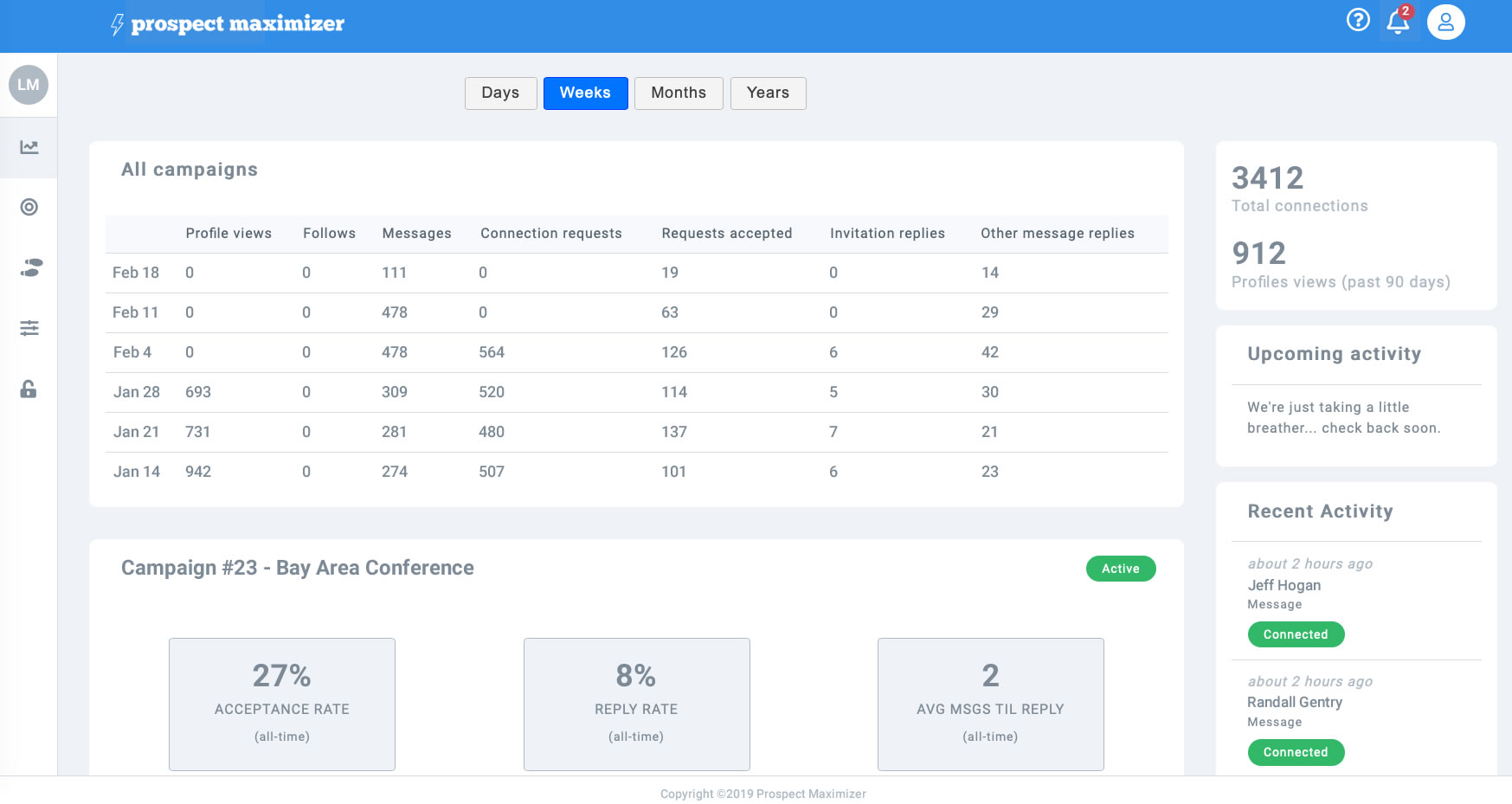 "The way our agency has able to scale up leads from LinkedIn on behalf of our clients with Prospect Maximizer has made it possible for us to scale our own business dramatically.
– Robert Diaz, B2B Marketing Specialist
Prospect Maximizer is not affiliated, associated, authorized, endorsed by, or in any way officially connected with LinkedIn, or any of its subsidiaries or its affiliates. The official LinkedIn website can be found at http://www.linkedin.com. The name "LinkedIn" as well as related names, marks, emblems and images are registered trademarks of LinkedIn. By using this service, you agree to the Terms of Service.